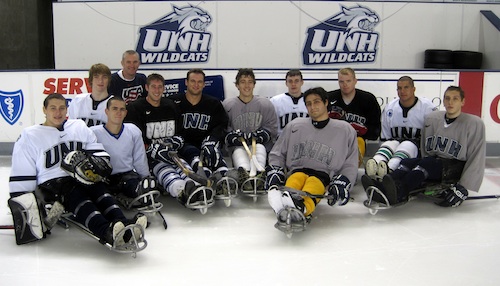 Northeast Passage Wildcats
Standing Bill Stewart, Athletic Director and Asst Coach.
Back left to right Kevin Lynch, Mark Priest, Mike Murphy, Athen Blaine, Kyle Zych, Griffin LaMarre, David Eustace, Sam Robichaud, Craig Brady.
Front row left to right Danny Santos, Eli, Taylor Chace (Coach), Victoria Arlen
Our Northeast Passage Wildcats were undefeated in four games of the Legacy Sled Hockey Classic at The Rinks at Exeter, Exeter, NH, March 6-8, 2015. The progress our team has made in the last eight years is impressive. Hats off to NEP, UNH, our coaches, our players, the Northeast Sled Hockey League and USA Hockey. I love being a coach and player on this great team of individuals. Good luck to four of our guys (Griffin LaMarre, Craig Brady, David Eustace and Kyle Zych) as they head to Calgary with the US Development Team for competition with Canada.
Game Results
NEP 8 NJ Freeze 0
NEP 1 Philadelphia Flyers 0
NEP 1 DC Sled Warriors 0
NEP 5 NY Rangers 1